Crowning the Champions of The Study
Like a bloody rag dragged across a dusty blackboard, we are wiping clean the leaderboard for The Study. Not for spite or kicks, but to present a brand new challenge / contest! How fast can YOU escape The Study? Let's find out, shall we?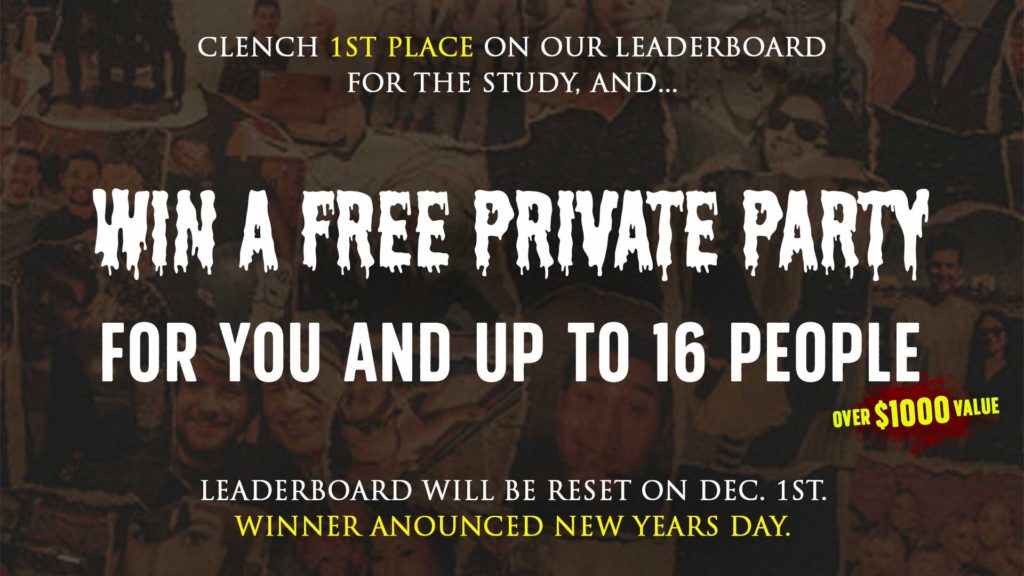 CONTEST RULES
The leaderboard for The Study will be reset at 4:00AM on December 1st, 2021. The team who holds the record for the fastest time, the number one spot, as of 11:59pm on December 31st, 2021 will be crowned the winner! For the first time ever, REPEATERS ARE NOT DISQUALIFIED! That's right folks, do you want to play again and again to find the perfect speed-run strats for The Study? We're excited to see what our guests can do!
As you might imagine, these entries are only valid on games booked in The Study. Teams must consist of 4-8 participants. This contest applies to our Sylmar, CA location only!
Additionally, to be considered, your team must make a short video just before entering your game stating the following, and tagging @thebasementescaperoom on Instagram:
"We are team YOUR TEAM NAME and we are the Champions of The Study at The Basement Escape Room!"
All participating team members must post the video before your game begins, or else you will not be eligible to win.
FABULOUS PRIZES
Our Study Speed-Runners will win a stellar prize package. The champions will receive a FREE PRIVATE PARTY!  Prizes consist of 1 – 2 experiences of your choice, played simultaneously, free souvenir photos, an hour before or after your games in our VIP lounge, stocked with snacks, drinks, coffee, and dessert! Private party sizes of 2 – 8 people will play 1 free room, while parties consisting of 8 – 16 will play up to 2. Guests to this private event are limited to less than or equal to twice the size of the competing/winning team. 

So what are you waiting for? Visit https://thebasementla.com/thestudy to book your next adventure! Best of luck escaping!