What to Wear to an Escape Room
The footsteps grow louder outside, heavy boots hitting the hardwood floor. The babysitter clamps her hand over her mouth.
The slats in the closet door filter thin lines of amber light across her sweating face. He pauses for a moment before curling his fingers around the doorknob and throwing open the closet doors.
The babysitter's scream rings out into the night:
"PLEASE!!! HELP ME!!! WHAT DO I WEAR TO AN ESCAPE ROOM???"
LIFE AND DEATH
For most people, deciding on an escape room outfit isn't a life or death kind of question. But here at The Basement: A Live Escape Room Experience, the right kind of escape room dress code can certainly help keep you focused on how the puzzles, the next clue, and how to escape the room with your life in tow.
DO Dress Comfortably! –
I totally understand wanting to look cute when you go out – short dresses, high heels, the works. But for playing puzzles and trying to escape the room, comfortable clothing is recommended. Wear clothes you feel comfortable moving in.
For example, track pants, jeans, or a light sweater – that air conditioning can get cold! Not a fancy costume with accessories or potential pieces you're afraid will get lost during the games of your active clue gathering experience. Besides, you never know what you and your team might be asked to do during a game!
Here at The Basement, you may get a little wet in The Elevator Shaft and somewhat dusty in The Courtyard. Be sure to read up on the experience you've chosen to play before arrival.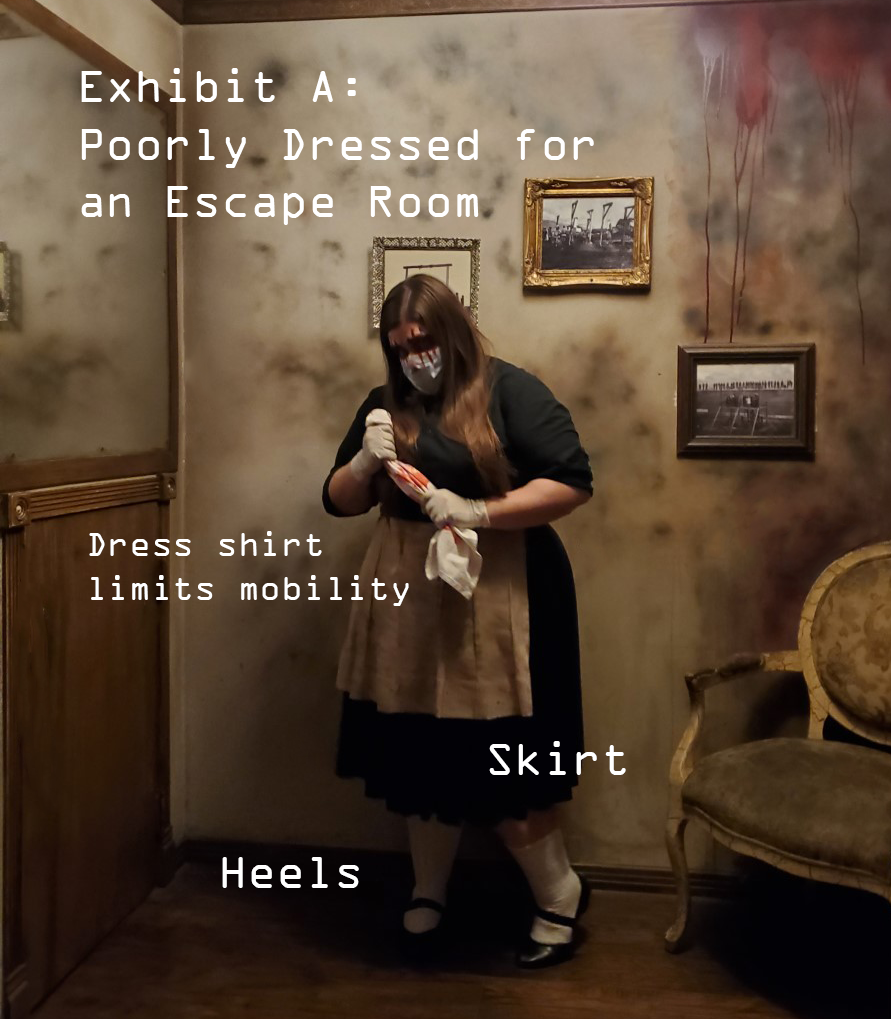 DON'T Wear Dresses, Skirts, or Kilts –
Pants and shorts are a great choice of escape room clothing you can rely on when playing games that could save your life. Every escape room adventure is different, but our thrilling experience will definitely include bending, climbing, and getting into tight spaces.
So long as your close fitting garments and comfortable feet-ware allow you to move, great! Just avoid wearing your long hair down as you may be privy to a tight (but fun) head pull from Edward himself!
DO Show off Your Escape Room Merch! –
Nothing tells me a team is prepared like a roster of victory tees from other escape rooms. I want to hear all about your wild successes and your tragic failures.
Tell me everything about how amazing that submarine escape was! While you're at it, check out The Basement's Rad Merchandise, we only sell good stuff.
DON'T Wear Solid-Color Leggings as Pants –
"Wow, that's really specific." Yes, yes it is. Most escape rooms watch their guests on infrared CCTV video feeds. This allows the staff to see clearly, even in the darkest parts of the rooms.
But infrared CCTV sees colors and fabrics differently. All this to say: If you wear black leggings as pants, it will look like you're not wearing pants at all.
I mention this not to make anyone feel embarrassed; it's just the kind of information I'd want to be privy to.
DO Wear Active Shoes –
Although many escape rooms don't require you to be too physical, there can be moments of physicality and exploration that mean more than just standing or walking.
Wear something you can crawl in, comfortable shoes like sneakers, not flip flops. The last thing you want is to lose your shoes in the game mid-course!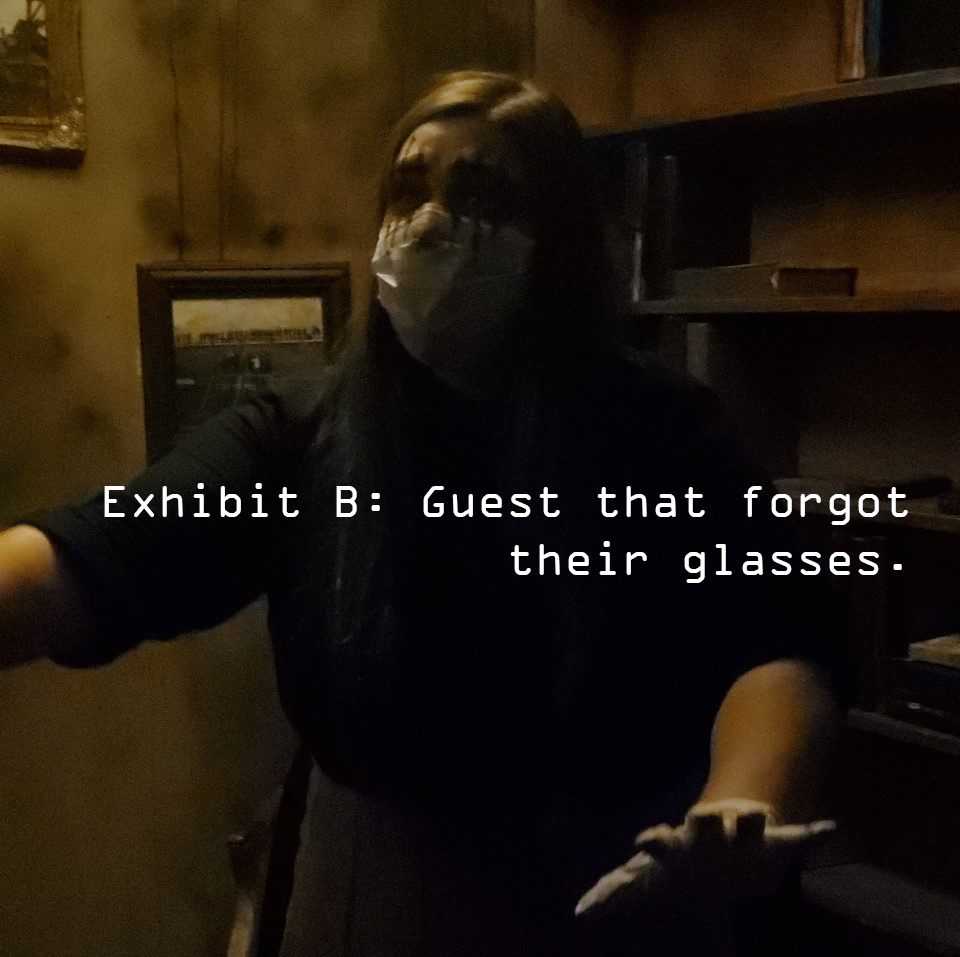 DON'T Stuff your Pockets –
Rarely do escape rooms allow you to bring your own tools inside. No need to weigh yourself down!
Forget about the fancy accessories and focus on the team game! The room itself will be filled with the tools you need to win the game.
DO Lean Into the Theme –
We love to see our guests embracing the immersion. If you're heading to The Basement, consider arriving in your best "Kidnapped and Beaten" outfit!
Or perhaps dress as a classic 1930s private eye. We have even had groups play dressed as Scooby Doo and Mystery Inc!
DON'T Stress About It –
I think this is one of the best tips we can give. Dress comfortably, be yourself, don't worry too much about what to wear to an escape room. As long as you're wearing clothes and a mask, we're happy to see you.
If you are concerned about your experience ruining your outfit, (let's say you really don't want to get your shoes or outfit dirty) at The Basement, we do offer shoe covers and extra large tee-shirts are available for purchase. 
DO Wear Your Glasses! –
I feel this goes without saying, but please, if you need glasses or contacts, include them in your dress code! Escape rooms usually require that you read clues. So why not solve games in the highest level of clarity possible?
Additionally, if you have difficulty hearing, be sure to wear a hearing aid. Other participants will be grateful you did too when you hear clues that they might not have heard!
DROP DEAD GORGEOUS
Although suffering is a big part of what we specialize in, we never want our guests and friends to feel unnecessarily physically uncomfortable. All discomfort and pain should come from us! (For legal reasons that is a joke.)
When standing in front of your closet, dressing and trying to decide what to wear to the escape room, your comfort comes first. Secondly, consider your mobility and utility. Express yourself, have fun, and enjoy your escape room adventure!
Preparing for your moment before you arrive is a great way to get into the headspace of the challenges awaiting you. Get into character, streak some blood down your face, and let's get started!
Thank you for taking the time to read this blog post. Come to 12909 Foothill Blvd, Sylmar, CA 91342 to play our delightfully frightening escape game experiences.