How Much is an Escape Room?
A cloaked and staggering figure kneels over the altar of the escape room landscape, hands raised to the sky in joyous praise. The cold meeting place hums with dark intention. A silver dagger flashes in the dim flicker of candle light.
Ruby droplets of blood from the priestesses' palm splatter against the stone as game enthusiasts gasp. The pact is sealed. She now has a reservation for four at The Basement: A Live Escape Room Experience.
Don't have a sacrificial pedestal handy? Too tired to muck about with all of the ritualistic chanting and gathering? There is an easier way – a one-time expense that requires little to no blood.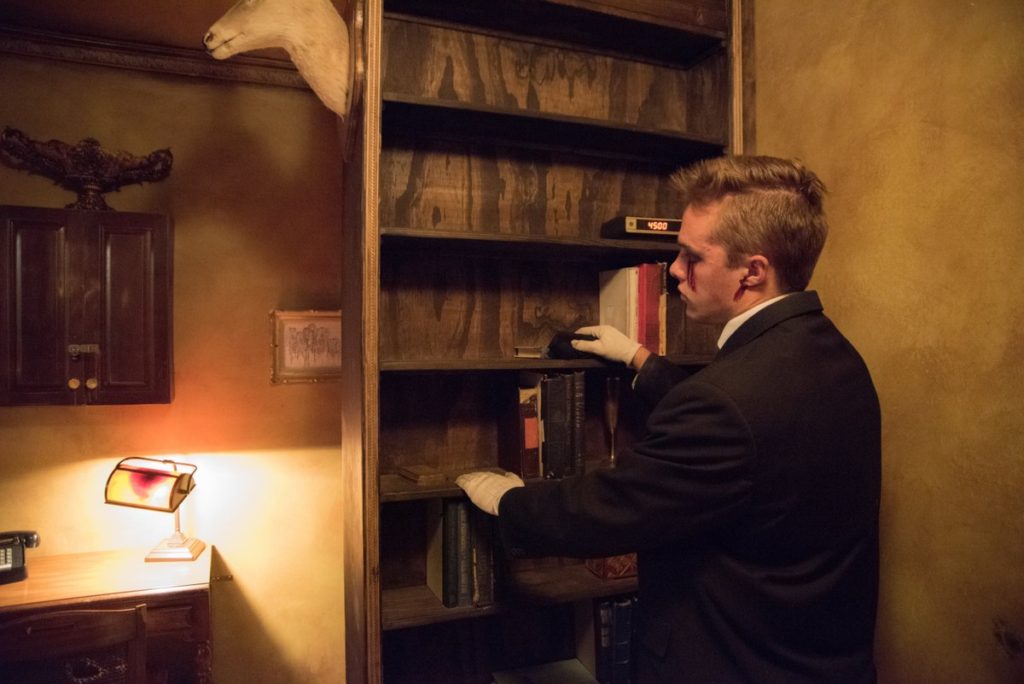 BOOKING AT THE BASEMENT
At The Basement, we make exploring your booking options easy. Creating room reservations is really simple: choose your room, the time, and how many players at a time on your team.
All you have to do now is pay rent upfront to secure your spot, fill out your waiver, receive some educational information on escape room gaming, and you're done! Now your escape games adventure can begin. But if not paying in blood, how much does it cost?
OUR ESCAPE ROOM DEAL
Monday thru Thursday individual tickets are $35. Friday thru Sunday, those tickets are $39.
We also offer a special event once a month called Humana Festum. Tickets are $35 per person, the same as an ordinary weekday ticket. But the necessary expenses don't just cover the room design and game itself.
ESCAPE ROOM GAMES AND MORE
During Humana Festum, you also receive two free drinks, two free tacos, and have four mini escape rooms to play! Humana Festum is a cocktail soiree dressed to the nines with immersive characters, bringing the world of Edward Tandy to life through our escape room games.
THE PIZZA ANALOGY
"But Anna?" I hear you say, "I went to Earnest Ernie's Escape Emporium in my single city hometown and games cost $25 per person. Why should I spend more at your escape room business?"
Escape Room businesses are like pizza places. Typically they are smaller businesses, often family owned small businesses, a few chains exist, but each offer the same basic product despite how much profit they drive.
Most importantly though, each successful escape room business is completely unique and you definitely get what you pay for in a one hour game! Escape room prices can vary wildly, but quality will often indicate price as well as what the rooms comprise of.
The Value of Your Ticket – What it Gets You
Here at The Basement, we have absolutely stellar staff members who are there to make your experience as smooth and memorable as possible.
In our rooms you will find world class set design, incredible immersive environments that really transport you somewhere else entirely in just an hour.
TECHNICAL WIZARDRY AND ROOMS THAT INVOLVE ELABORATE SETS
Advanced technology blended beautifully with detailed theming provides purpose and realism to our games. Escape room games work to be more than just a room full of puzzles. We stitch these elements together to tell a story in a way only we can, while also getting a puzzle break in here and there.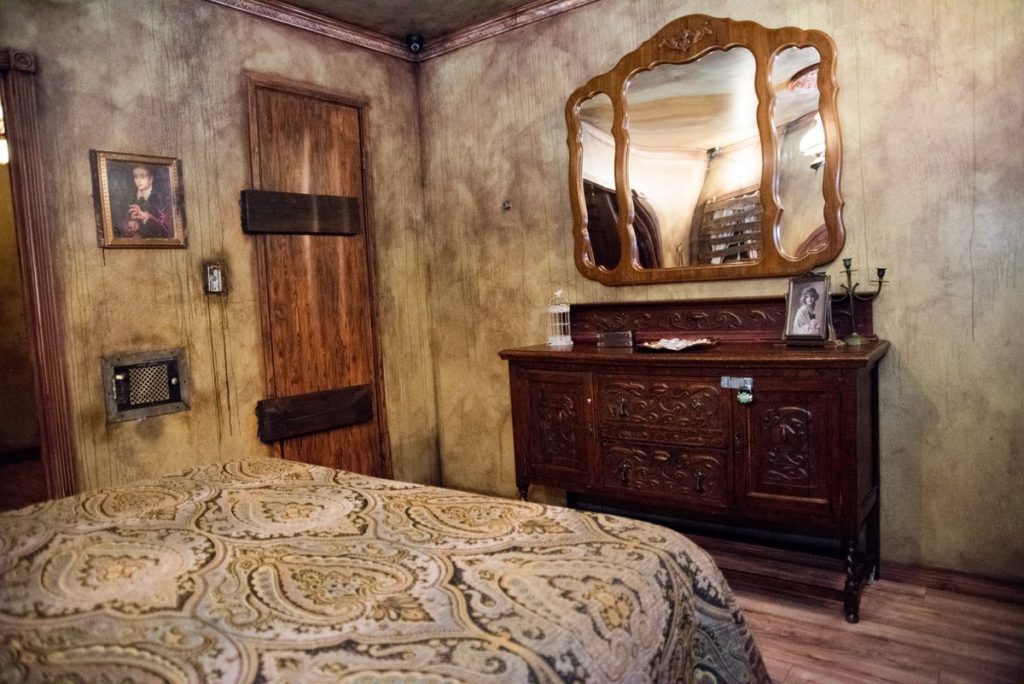 ELABORATE COSTUMES FOR CUSTOMERS' IMMERSION
Like many escape rooms, we host talented, classically trained actors that bring our terrifying characters to life. We don't need laser lights to keep the extremely lucrative game exciting. Our actors do that enough.
Each room is filled with intriguing and expertly crafted puzzles to keep you guessing from moment to moment.
Why book privately?
Booking privately ensures an experience of most games all to yourself, it allows you to make memories exclusively with your trusted team, whether their business colleagues or just a fun night out with friends on location.
This opens up the option to be totally organized with business owners of the escape room directories. Plan an attack, distribute roles, play, fight, win!
PLAY ESCAPE GAME ROOMS WITH FRIENDS ONLY
Social anxiety is real! Booking a private game ensures that you don't have to interact with anyone new.
Bonus: If you have a mental breakdown inside of the room, you will only embarrass yourself in front of your family!
Why book publicly?
Booking into public games gives you an opportunity to make new friends that also love escape rooms with no extra costs involved!
MAKE NEW CONNECTIONS WITH AN ESCAPE EXPERT
Playing with strangers at The Basement really builds the realism of your experience. If you've been kidnapped by a serial killer, more likely than not, you would have to work with people you don't know.
If you are looking to play on a budget, this option allows for all the fun at a lower cost.
OTHER NON-MONETARY COSTS
More than money or an afternoon, playing escape rooms often cost something far more precious: your sanity. If you've never played before, get ready to be sucked into your thrilling new hobby.
It's really easy to get hooked on the adrenaline pumping, mental acrobatics you have to pull inside an experience like this. The same way that people get into cliff diving, race car driving, or lion taming, escape rooms provide thrilling satisfaction and grand anticipation.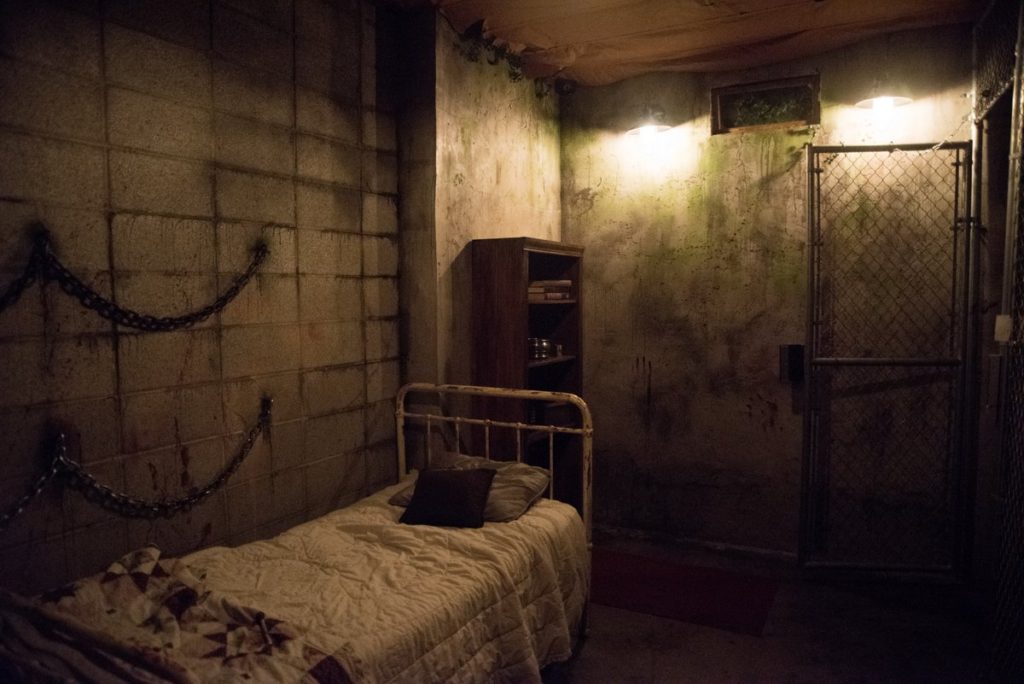 BOND WITH CORPORATE CLIENTS
They are a great way to test bonds, assess teams, and strengthen cooperation from person to person. But it will cost you a little stress and sweat during the hour game. And typically allow for even a few tears.
I'd be lying if I said that I haven't cried at The Basement: A Live Escape Room Experience. Ah. Maybe that was for unrelated reasons. I won't elaborate on that one.
Never Trust a "Free" Escape Room
Okay so we know how murderers operate. After all, killers and puzzles are the core pillars that keep this whole building from collapsing.
If someone is offering you a free and fun escape room and is insisting that you come alone to the location without showing a business license, they are trying to kill you. If you arrive at a weird looking warehouse by yourself in the hopes of solving puzzles for fun, turn around and run as fast as you can.
SOLVE PUZZLES OR GET SCAMMED
In all seriousness, when choosing an escape room, do your research on this trend taking the world by storm. Learn more about how to choose the right room for you by reading this super cool blog post; you'll love it.
COST AND EFFECT
The price of a game ticket to one of our experiences could buy you 17.03 Beefy Nacho Grillers from Taco Bell. Instead, you could buy yourself approximately 24.5% of a day at a major theme park.
Or, you could invest those dollars in about one and a half bikram yoga classes. Whatever you choose to do with your entertainment budget, we are so glad to be on your list.
It's easy to judge entertainment based on value over time, but factoring in the quality and longevity of that experience will show you it's more than worth it.
SO HOW MUCH IS AN ESCAPE ROOM?
In summary, an escape room is just a little more than what can be purchased with your average American, Canadian, or Yugoslavian dollar. (But to be clear, we absolutely will accept payment in the form of raw gold bullion.)
Whether you're planning a birthday celebration, an engagement, a girls night, a ghouls night, a team building exercise, or literally just a Tuesday, The Basement has you covered.
We can't wait to kidnap you and drag you here against your will! See you soon!