Escape Room Jobs
Gaunt creatures, eyes sunken and features sharp, shuffle through the twisting corridors. They are easily identified by their stained and tattered black polo-shirts and their ear pieces, streaked in blood that runs from their ears. Eyes wide and ever-watching, the Escape Room Employees beckon you forward, unable to verbally articulate their speeches anymore. How long have they been here? What sustains them? Is this what all escape room jobs are like? Fear bubbles up in your throat and out into the cold night: a ragged scream. They watch you run off into the darkness, waving politely and ready to welcome in the next group.
What's it Like to Work at an Escape Room?
I trust, dear reader, that you understand my jest. In general, escape room employees (often referred to as game masters or game guides) are some of the loveliest people I've ever met. That is a completely unbiased and fact-based opinion. But seriously, here at The Basement: A Live Escape Room Experience, we take a lot of pride in our friendly and knowledgeable staff. As they lead guests back to their experiences, our team offers a warm welcome peppered with unsettling interactions. Behind the scenes, these all-stars monitor escape room games, provide clues (at the discretion of Edward Tandy), reset game elements, and even help to fix broken props or technical malfunctions. We go in-depth on the different roles at The Basement in our Blog Post: How Do Escape Rooms Work? "Game Master" is an all-encompassing title with a range of responsibilities, but all in all, escape rooms provide a really fun and exciting work environment.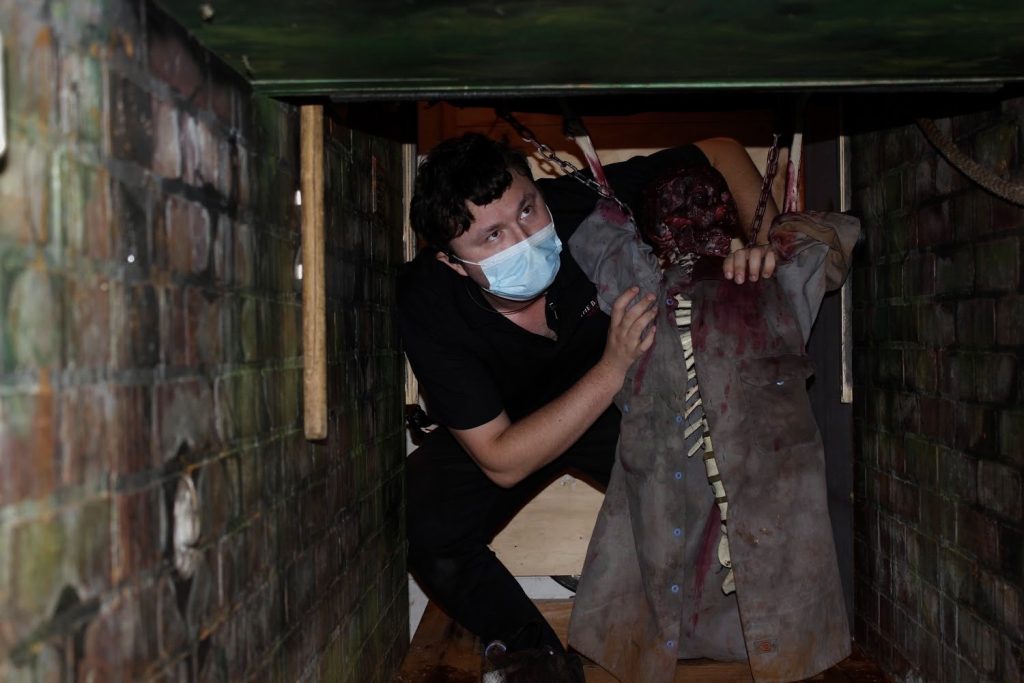 Working in Themed Entertainment
In the world of themed, experiential entertainment, the guest becomes the hero of the story. Unlike the passive nature of watching a movie, or story-less activities like laser tag, every single guest has a part to play. It is quite the challenge to create a unique and immersive experience with engaging game play and a strong story. At The Basement, we blend that heart-pounding guest experience with an inescapable storyline. Our escape rooms have a through-line narrative but can be played in any order. Each game challenges guests in new and perilous ways.
Our team members are tasked with helping create the best possible game environment for each guest's individual experience. The staff maintains a positive attitude through high-stress situations. Even if everything that can go wrong, has gone wrong, it's important for the guests to be clueless (ha, get it?) to the problems of the outside world. Our guests visit us to escape reality, to walk away from their own stresses.
Challenging but Rewarding
If you've ever thought about applying to work at an escape room, know that it is a very detail-oriented position that can often have long hours, leading late into the night. Especially due to the horror-theming of The Basement, we are open past midnight every night of the week. No matter which role you are playing, it is a very fast-paced and multi-faceted job. The position description for our business contains many layers. You might find the talent manager finishing escape room props and furnishings one minute, and conducting performance reviews in the next! It's that kind of fast-paced, switch-em-up action that keeps escape room jobs fun and interesting! Never a dull moment here at The Basement.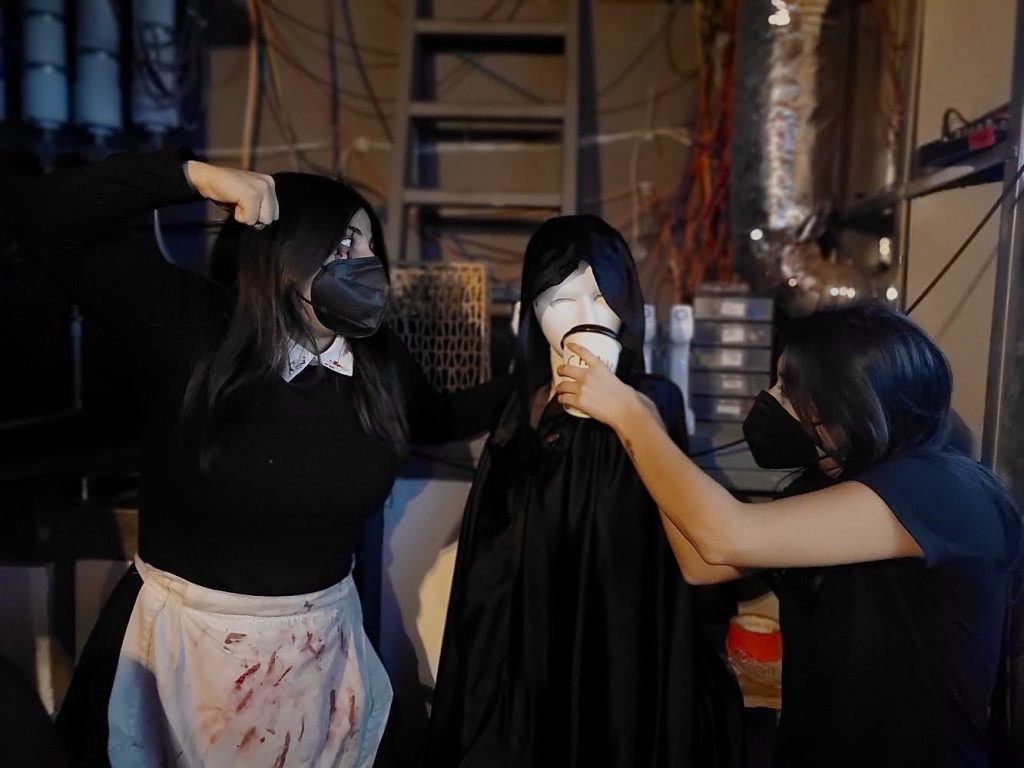 Front Desk
It is our hope that our employees learn as much as they can from their job here. Multi-tasking is a must. Front Desk, for example, checks in players, sometimes several groups at once! This team member needs to provide clear verbal instructions to guests while hyping them up for the adventure ahead.
Operations
Operations team members, those that watch the games, are in charge of guest and actor safety inside of the rooms. A Basement game master watches two different rooms, quickly glancing between two monitors while tracking solve times and actor signals. They also provide hints on a specified schedule. There's a lot to watch for to ensure the safety of everyone inside an escape room.
A Fun, Secret Basement Behind the Scenes Game Master Fact, Just for Loyal Blog Readers:
(Inside The Basement, the escape game, there is a large wooden box labeled with spray paint: "DO NOT CLIMB." But it's in an escape room, right? So clearly that's our way of telling players to climb it! Reverse psychology! No, it's not that deep. If a guest should attempt to climb the box, above they will find an iron ladder going up into the ceiling. This is an immovable ladder for Maintenance to access roof areas. It just so happens to be in a spooky closet. If the game master isn't watching carefully, someone could get hurt! Note to self, fire escapes don't belong in escape rooms.)
Personal Performances: Acting Inside Our Escape Rooms
Most escape room jobs end there, but here at The Basement, all of our employees are also performers, trained to portray characters inside of the epic experiences we offer. You must be able to interact professionally with guests and scare them during their games. This is an extremely important part of our business because it's what sets us apart from other escape room companies. We are looking for fun, out-going people who LOVE to perform and scare others!
Here, you will never find a more personal, intimate audience. You are the star of a show for 2-10 guests at a time. There is a huge opportunity to connect with your audience in a way unique to experiential storytelling. When on stage or screen, you can't hold the viewer's hand as you die, you can't call them by name as you desperately search for escape. But at The Basement, that's the reality every night of the week. It is a fantastic experience for actors looking to perform on the regular, honing their craft while creating memorable encounters for guests.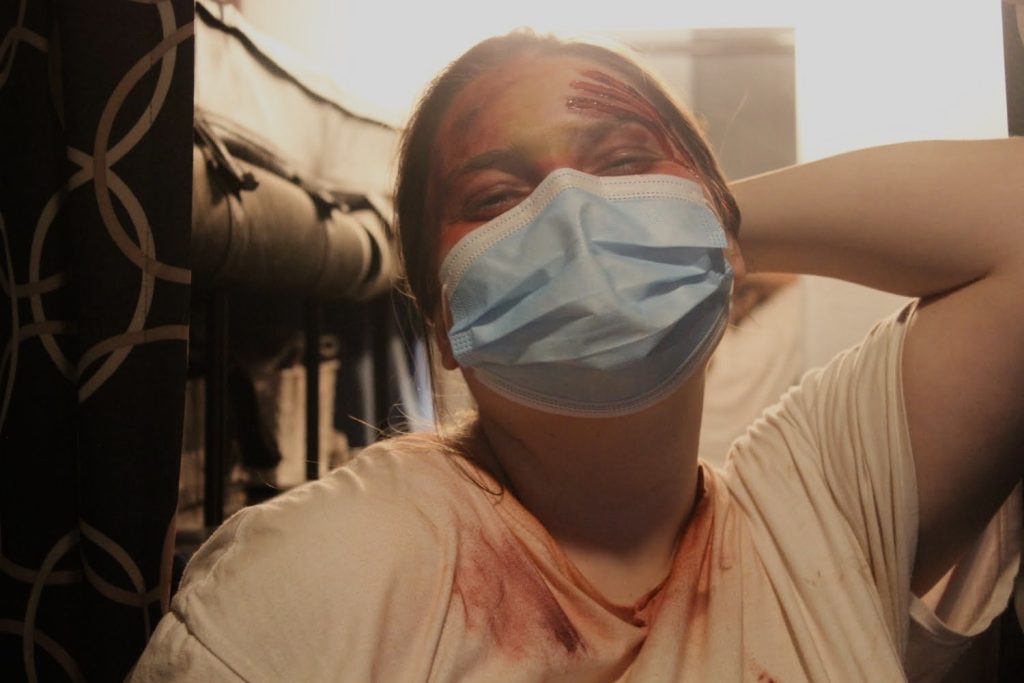 Out of the Spotlight, In the Offices
The Basement has a hard-working team of managers and professional specialists working behind the creaking doors of its dark halls. This team focuses on creating stellar training experiences for incoming staff, maintaining a fun and engaging social media presence, keeping the building in working order, and organizing special events for all occasions. Escape room jobs, and themed entertainment jobs in general, often cover a wide variety of skillsets and talents!
Edward Tandy's Looking for YOU
As you search, jobs in the escape game industry might just be calling your name. If you think you have what it takes to join our team, check out our Careers page for more information on applying. You can also often find our listing on LACasting.com. Although we are not always hiring, we are always accepting applications! Whether you're a star bowling champion, a young starlet who just moved to LA from Pineville, NC with a dream in their heart, or you're just watching for the latest job alert on Indeed, we want to see what you've got! Turn your love for escape rooms into a fun and exciting job prospect!
Thanks for reading! Follow us on Twitter to check-in on our most beloved employee, the entity known as "Toby!"